Raffles Dubai Hotel
Raffles Dubai
*****
Accommodation
Thematically styled with Middle Eastern and Asian designs, each of the 248 guest rooms at Raffles Dubai exude elegant style and residential charm. With private balconies off each room offer majestic views over the city of Dubai, one can be assured of supreme luxury whilst in residence at Raffles Dubai.
Inspired by the great pyramids of Egypt, Raffles Dubai radiates an opulent blend of Middle Eastern and Asian decor. Under the apex of the pyramid, 11 distinctive restaurants and bars feature culinary delights from all over the world. For successful meetings and events, Raffles Dubai offers a choice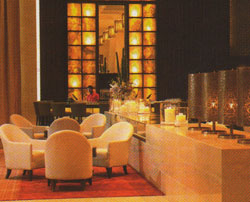 of 11 private rooms with state-of-the-art audio visual equipment and the latest wireless technology. The one-hectare masterpiece Raffles Sky Garden is Dubai's most luxurious venue for outdoor celebrations and events.
Business & Conference Facilities
Raffles Dubai is a magnet for the Emirate's social glitterati and boardroom gurus. Here, event planners will find everything on their wish list: Nine intelligently designed and smartly furnished private rooms for up to 180 delegates, a ballroom opulently furnished to impress the grandest gathering of 550 guests yet divisible for more intimate occasions, state-of-the-art lighting, communications and presentation facilities and the unflagging support of a highly pro-active and capable conference team.