Dubai The Harbour Hotel & Residence
The Harbour Hotel & Residence
*****
Accommodation & Facilities
An exciting addition to Dubai's range of luxury hotels. The 5-star deluxe hotel is offering spacious apartments, unparalleled views of the sea and marina, and impeccable service. Guests can feel genuinely at home staying in self-contained luxury suites, with privileged access to world-class restaurants, exclusive spa, gymnasium, outdoor swimming pool and Business Centre.
Suites are fully-equipped with kitchen and all modern appliances, bathroom with bath/shower, LCD TV/DVD player and sound system, internet, daily housekeeping, 24-hour room service.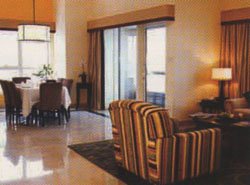 Business & Conference Facilities
Business facilities have been designed to make the working day as smooth as possible, including a fully-equipped business centre and meeting room. Guests have access to secretarial and PA services on request.
Sports & Leisure
Leisure facilities are second to none, notably an exclusive spa brand, Timeless Spa which offers a range of treatments for men and women using natural and indigenous ingredients. Guests also have access to a gymnasium and outdoor swimming pool.