The Ritz Canton Dubai Hotel
The Ritz Canton Dubai
*****
Accommodation and Facilities
Gentle waves lapping the beach, the rustle of leaves in the cooling breeze and the manicured lawns of The Ritz-Carlton, Dubai provide the ultimate tropically elegant venue for any event, from the Osprey Arena, to the elegant Palm Court or the intimate Dove Gardens. Have a total of 138 guest rooms, including 87 deluxe rooms, 38 Club rooms and 13 suites, all overlooking the pool and garden area with private balcony or patio.
Business Facilities, Events & Conferences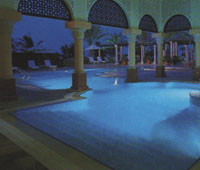 Whether it is a wedding reception, a cocktail party or live entertainment, you may rest assured that your special event is in the finest hands.
Ideal for smaller gatherings, the secluded surroundings of the Spa Pool are linked to the Plaza by a discreet staircase.
A technology butler is on call 24-hours a day to assist with anything IT related, and a dedicated events and meeting co-ordinator is available to assist with all arrangements.
Spa and recreation
Relax and soak up the sun by one of 3 swimming pools, or on the 350 meters-long white sandy beach. Play a game of tennis or squash on the on-site courts or visit the fitness centre and luxurious spa. Perfect for the exercise enthusiast or for guests desiring relaxation, the Balinese therapists offer a pampering package of treatments to energise and invigorate.