The Fairmont Dubai Hotel
The Fairmont Dubai
*****
Accommodation & Facilities
Modelled after an Arabic wind tunnel Barajeel, this 34 storey property features 394 guest rooms (including 128 suites and penthouses), residential apartments and offices. All rooms come equipped with the usual five star amenities.
Comprehensive facilities include 10 excellent dining and entertainment venues including the multi award- winning Spectrum on One restaurant and The Exchange Grill. Additionally the hotel provides laundry service, Concierge, baby-sitting, facilities for special needs, florist, jewellers, gift shop, butler service, and doctor on call is also available.
Business & Conference Facilities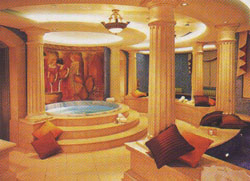 The business centre features four mini working offices with dedicated PC's, two mini interview rooms, three executive boardrooms, internet, secretarial support, fax, photocopying, printing, typing and translation service. 1 8 executive meeting/breakout rooms and adaptable auditorium venue and ground level accessible ballroom with separate entrance is also available with state-of
-the-art audio/visual equipment.
Sports & Leisure
Amenities include the Willow Stream Spa and Health Club with two outdoor terrace swimming pools, extensive gym, aerobics room, sauna, separate male and female spas with individual treatment rooms and hydrotherapy area with jacuzzi, steam room and relaxation zone. Ranges of spa treatments include body wraps and facials, Thalatherm and hydro massage. A male and female hair salon is also available.