Dubai Middle East Oasis Tour
12-days tour
During the Middle East Oasis tour you can start your journey through shopping from beautiful modern malls. An oasis of 30 years ago now changes to one of the beautiful harbors of the world. This wonderful harbor with its large beautiful buildings and parkways which is full of expensive cars is known as one of the most developed cities of Asia.
Then you will go to Shiraz, the city of nigh tingle and flower and poems, and enjoy its beauties perfectly. After that you will enjoy an unforgettable night in a small caravanserai in the middle of desert and also enjoy the starry sky of desert. After that you will go to Yazd, the biggest traditional city of the world, and then you will travel to Esfahan, the beautiful historical city of the world, at the end you will return to your country with a collection of unforgettable memories.
Day 1: Arrival in Dubai airport. Meet and transfer. Visit Dubai and at night enjoy dhow cruising.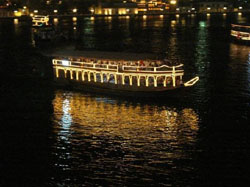 Our agent welcomes you, while having the logo of Key to Dubai. Afterwards you will lead to your reserved hotel.
Dubai is a beautiful city neighboring Oman, which a bay divided it to two equal parts. These two parts adjoin each other with large bridges and beautiful subways.
Extensions of sea to land which leads to appearance of many ships and boats, make this beautiful old harbor a special fantastic one.
Now it's time to see the city from a different angle, while cruising on a dhow. Dhow is the name of traditional ships of Dubai which have a particular shape and beauty. In night tours these dhows which have beautiful adornments, will take you to a short sea trip. On this nightly tour you will enjoy gulf music, dance and delicious Asian and Arabian foods. Finally you will surely have an unforgettable everlasting memory.
Day 2: Dubai city tour. Enjoy Sahara exploring tour in the evening.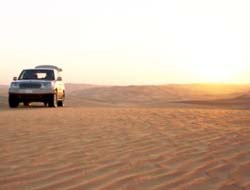 A variety of sightseeing and cultural tours are available in either private cars, group convoy and on a double-decker bus.
Should you choose to go on Desert Safari, your tour will depart in a 4x4 or hummer, traveling across the dunes in the early afternoon. There will be several photo opportunities at planed stops along the way to the first destination, a traditional camel farm. Your drive will continue crossing the desert where you will witness the beautiful sunset over the dunes, one of the highlights of the trip on Arabian safari. Upon arrival at the campsite, you can choose to ride on a camel, experience the thrill of sand boarding, or try out a henna design on hands or feet before enjoying a delicious BBQ dinner and fruity aromas of the famous shisha (Arabic water pipe). Then you can sit back, relax and experience the delights of the belly dancing performance by the campfire beneath the stars (year-round except Ramadan).
Day 3: Beach tour. In the evening visit Jumeira City and take part in the water dance show near Khalifeh tower.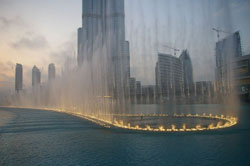 In the Morning start from the iconic Grand Jumeirah Mosque and work your way down on foot enjoying the sunshine and fresh air as you stroll moreover you can also rest beside beach and have fun.
In the evening you will visit Jumaira City. This award-winning resort hotel has 26 stories comprising 617 sea-facing rooms, suits and villas. Retail shops include sports and leisure, carpets, pharmacy, caviar, photo developing, jewelry, electrical items, clothing and newsagents. There are also 22 cafes cafes, restaurants and bars. Business guests and couples travelling alone have access to the new stylish club Executive Lounge providing a convenient meeting place offering breakfast, refreshments and sundowners. There's a haven where executives can hold informal meetings or simply reflect on their day.
Near Khalifeh tower there is an artificial lake which every half an hour the music of one of countries is played along with water dance and light dance. This situation makes a desirable and wonderful night for you.
Day 4: Explore the Old City and do shopping. In the afternoon visit Dubai Palm and Atlantis hotel.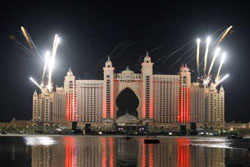 In the morning you will experience the historic sites of Dubai on this comprehensive sightseeing tour. Dubai is divided to three parts, Jumeira, Bur Dubai and Deira. Exploring the Old City Deira provides a fascinating city tour and afterwards you will be free at leisure for shopping.
Palm Islands in Jumeirah, Jebel Au and Deira are the largest man-made islands in the world - featuring kilometres of pristine beaches, luxury hotels and sports facilities - they are set to become one of the most exclusive residential locations in the world. Built on the coastline of Dubai by Al Nakheel Properties, the unique feature of engineering and imagination, visible from space, the developments have been dubbed 'The Eighth Wonder of the World". The Palm is the ideal location to experience an exciting array of marine life. In keeping with the diverse offerings, divers have a choice of themed sites. Whether your ideal activities take place on the land or in the sea, The Palm delivers an experience unlike any other on earth. Why not explore Palm Island by air in a helicopter, seaplane or go around it by boat?
The Atlantis will open its monumental doors and introduces the world to more than 65,000 marine creatures and over 1.2 miles of fresh water adventures in December 2008. The resort brings history and myth together with a world class resort experience. It is situated at the apex of The Palm's crescent, on 120 acres. The Atlantis will be approximately 30 minutes from Dubai International Airport, 5 minutes from The Village Centre at the tip of the trunk of The Palm Jumeirah and only 20 minutes from Dubai city centre. The design of Atlantis is based on the myth of Atlantis and will maintain similar elements of the epic design of the Royal Towers of Atlantis in Paradise Island. The detail for Atlantis will incorporate a flavor of traditional Arabic design themes, specifically in the shape of the arch under the Bridge Suite.
Day 5: There are a variety of tours available, so you may choose among water sports, desert activities and etc. Fly to Shiraz in the evening.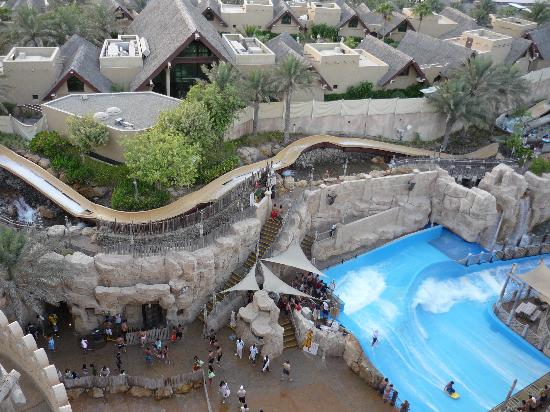 Enjoying a tour among those mentioned above It is followed by a fly to Shiraz then transfer to our hotel in Shiraz.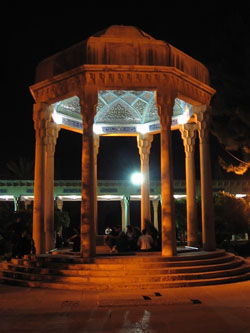 Day 6: Shiraz city tour.
Shiraz is crowned as the heartland of Persian culture and this city of sophistication will never fail to conjure up images of roses and nightingales, gardens and poetry. This gorgeous city in the province of Fars is home to famous poets such as Hafez and Sa'adi and historical sites from different eras stretching back 6,000 years ago can be found.
Early in the morning, relish in the highlights of Shiraz when it was the capital of Iran during the Zand Dynasty. Be inspired by the glorious Karim Khan palace, the splendid Vakil mosque, Vakil Bazaar and Saray-e-moshir with its splendid architecture and interesting ethnic souvenir shops, Nasir Almolk mosque.
Next, we will stop for a mouth-watering Iranian lunch at one of the traditional restaurants of Shiraz.
In the evening, we will visit Ali-Ebn-e-Hamzeh and be prepared to marvel at its beauties. Take a stroll through the Jahan Nama Garden and witness its tall and proud cedars.
Not forgetting the two famous Persian poets, hafez and Sa'adi, whose mysterious poems are everlasting in the Persian language we will get a chance to pay homage to their tombs.
Finally visit the Delgosha Garden and Khajoy-e-Kermani tomb from where the perspective of the mysterious city of Shiraz will perpetuate in our mind. At night have dinner in a restaurant with specific atmosphere in the north of Shiraz.Stay overnight in Shiraz.
Day 7: Visit Persepolis and Necropolis. In the afternoon visit the old parts of Shiraz.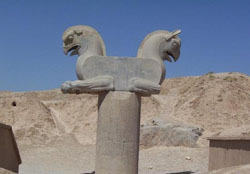 Be prepared to be inspired by the magnificence of Persepolis. This gem of ancient Persia which dates back 2530 years ago is the result of the exquisite works of a conglomeration of fine artists and architects from various nations under the Archaemenid Empire.
Next, we will visit Koh-e-Rahmat which is sided east of Persepolis and considered as a sacred mountain in ancient Persia.
Followed by Necropolis where we will marvel at the massive tombs of Old Persian kings. Necropolis is a collection of a variety of awe-inspiring historical relics from different pre-Islamic eras. Stay overnight in Shiraz.
Day 8: Drive to Zeinoddin Caravanserai. Visit Pasargadae and Abarkouh along the way.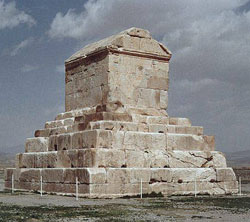 Depart by surface to Zeinoddin. On the way we will have short stops in Pasargadae to visit the most important monument there which is undoubtedly the tomb of Cyrus the Great, the originator of the greatest emperorship 500 years AD. Also we will visit the bas relief of the winged man and get familiar with its historical elucidations.
Then head to Abarqu to visit its traditional cisterns, ice-stories and 4500 year old cypress tree.Old trees in Iran are symbol of eternity, so people consider them as mediums between God and themselves. People aspire in their heart and fasten pieces to its branches. Then drive to Zeinoddin, a Safavid Caravanserai that is restored in the best way possible and got 2 awards from UNESCO in 2005 and 2006. we will enjoy its calming atmosphere in the middle of the desert with its shining stars blinking.
Day 9: Visit Yazd.
Drive to Yazd for 65 Km. Yazd, the oldest adobe city in the world, is surrounded by the 4000m summit of Shirkooh and two majestic deserts of Iran, Dasht-e-Kavir and Kavir-e-Loot. This ancient city is fur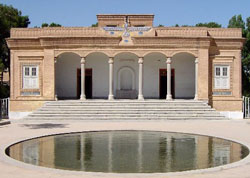 nished with mosques of stunning beauty. The co-existence of the splendid fire temples and the holy sites of different religions astonish every visitor.
Today's tour includes visiting Dakhmeh (tower of silence, where Zoroastrians leave the dead corpse to be eaten by vultures), fire temple of the Zoroastrians, henna pounding workshops and Amir Chakhmagh complex. From the minarets of this complex, we will get a breath-taking perspective of the oldest adobe city.
Lunch will be served in a traditional restaurant.
Towards the end of the day, we will visit the marvelous Water museum, Jame' mosque and Doulat Abad Garden. Stay overnight in Yazd.
Day 10: Drive to Isfahan and visit.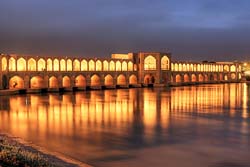 On this day, we will drive 300km from Yazd to Isfahan which is in the vicinity of Dasht-e-Kavir and the attractive city of Nain. Nain is known as the city of cisterns and possesses around 80 cisterns. we will get a chance to visit one of the oldest and most important mosques of Persian Islamic architecture. Stay overnight in Isfahan. Isfahan, the legendary city which never fails to enchant its visitors, is the pearl of traditional Islamic archeology. This city is revived by the works of contemporary artists.
Isfahan prides itself in having fascinating historical garden palaces. Legend has it that the city was founded at the time of tahmoures or Keykavous and because of its glories has been entitled "Half the World".
Our full day tour includes the famed Imam Square (Naqsh-e-Jahan), a huge square second in the world to Beijing's Tiananmen Square. Tour the architectural marvels of Sheikh Lotfollah and Imam Mosques, Aliqapu Palace, Chehel Sutoon and Hasht Behesht Palaces, and also visit one of the most famous bazaars in Iran, where we can purchase the arts & crafts for which Isfahan is so well renowned. Stay overnight in Isfahan.
Day 11: Visit Isfahan.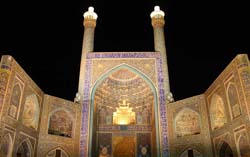 Isfahan's Jame' mosque holds in itself the passage of several centuries of historical Islamic evolution. This mosque is a gallery of Islamic architecture in which the progress of the architecture from the outset of Islam till recent times is evident. Then we will visit Vank Church which is one of the most beautiful Armenian churches in the world and will undoubtedly capture the attention of every Christian.
Our day will conclude with a visit to Monar Jomban, the tomb of a Sufi with its shaking minarets and some historical bridges. Stay overnight in Isfahan.
Day 12: Fly to Dubai and rest.
Day 13: Depart Dubai.