Dubai Sheraton Jumeirah Beach Resort
Sheraton Jumeirah Beach Resort
*****
Accommodation & Facilities
Relax in the comfort of one of the 256 guest rooms and suites. Let the good times linger late into the night when you enjoy spectacular views of the sea from your private terrace.
More than 200 palm trees and landscaped gardens surround the property and you can take a stroll outside and onto the warm, white sands of the Jumeirah Beach, a perfect haven to lounge, swim, or picnic with family and friends.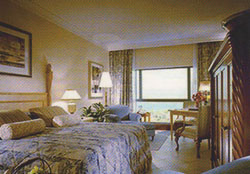 Savour international dishes at one of the many dining choices on offer or relax with a cocktail listening to the gentle waves lapping the shore.
Sports & Leisure
Armonia well-being centre will soothe using the scents of sea salt, rose petals, and peppermint to delight your senses and ease away the stresses of the day with a calming massage. If you're feeling energetic, play a game of beach volleyball, check out the squash courts, swim a few laps in the outdoor temperature-controlled swimming pool, or work out at our fitness centre.