Treasure of Dubai Tour
5-day tour
In Dubai you will see a combination of traditional and historical customs, diverse nations and modern architectures. All these points make this metropolis of Middle East a wonderful place. Treasure of Dubai shows you all these beauties and diversities. In Treasure of Dubai you will experience excitement, pleasure, rest, diversity and an ideal tourism destination in a completely different way.
Day 1: Arrival in Dubai airport. Meet and transfer. At night cruise on a dhow.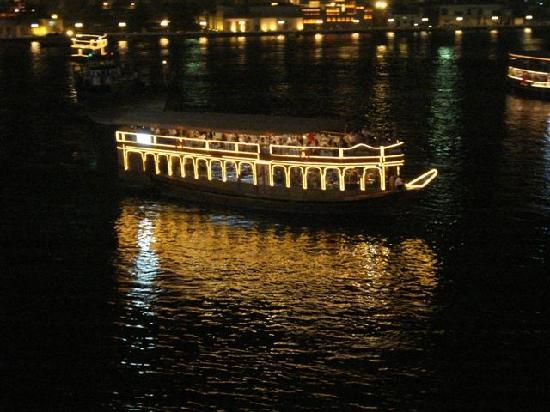 Our agent welcomes you, while having the logo of Key to Dubai. Afterwards you will lead to your reserved hotel.
Dubai is a beautiful city neighboring Oman, which a bay divided it to two equal parts. These two parts adjoin each other with large bridges and beautiful subways.
Extensions of sea to land which leads to appearance of many ships and boats, make this beautiful old harbor a special fantastic one.
Now it's time to see the city from a different angle, while cruising on a dhow. Dhow is the name of traditional ships of Dubai which have a particular shape and beauty. In night tours these dhows which have beautiful adornments, will take you to a short sea trip. On this nightly tour you will enjoy gulf music, dance and delicious Asian and Arabian foods. Finally you will surely have an unforgettable everlasting memory.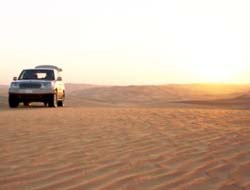 Day 2: Dubai city tour. Sahara exploring tour in the evening.
A variety of sightseeing and cultural tours are available in either private cars, group convoy and on a double-decker bus.
Should you choose to go on Desert Safari, your tour will depart in a 4x4 or hummer, traveling across the dunes in the early afternoon. There will be several photo opportunities at planed stops along the way to the first destination, a traditional camel farm. Your drive will continue crossing the desert where you will witness the beautiful sunset over the dunes, one of the highlights of the trip on Arabian safari. Upon arrival at the campsite, you can choose to ride on a camel, experience the thrill of sand boarding, or try out a henna design on hands or feet before enjoying a delicious BBQ dinner and fruity aromas of the famous shisha (Arabic water pipe). Then you can sit back, relax and experience the delights of the belly dancing performance by the campfire beneath the stars (year-round except Ramadan).
Day 3: Shopping tour. In the evening visit Jumeira City and take part in the water dance show near Khalifeh tower.
Morning is free at leisure for shopping. In the evening you will visit Jumaira City. This award-winning resort hotel has 26 stories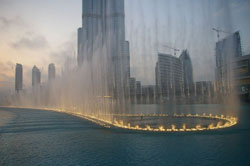 comprising 617 sea-facing rooms, suits and villas. Retail shops include sports and leisure, carpets, pharmacy, caviar, photo developing, jewelry, electrical items, clothing and newsagents. There are also 22 cafes cafes, restauranrs and bars. Business guests and couples travelling alone have access to the new stylish club Executive Lounge providing a convenient meeting place offering breakfast, refreshments and sundowners. There's a haven where executives can hold informal meetings or simply reflect on their day.
Near Khalifeh tower there is an artificial lake which every half an hour the music of one of countries is played along with water dance and light dance. This situation makes a desirable and wonderful night for you.
Day 4: Beach tour. In the afternoon visit Dubai Palm and Atlantis hotel.
In the Morning start from the iconic Grand Jumeirah Mosque and work your way down on foot enjoying the sunshine and fresh air as you stroll more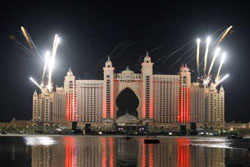 over you can also rest beside beach and have fun.
Palm Islands in Jumeirah, Jebel Au and Deira are the largest man-made islands in the world - featuring kilometres of pristine beaches, luxury hotels and sports facilities - they are set to become one of the most exclusive residential locations in the world. Built on the coastline of Dubai by Al Nakheel Properties, the unique feature of engineering and imagination, visible from space, the developments have been dubbed 'The Eighth Wonder of the World".
The Palm is the ideal location to experience an exciting array of marine life. In keeping with the diverse offerings, divers have a choice of themed sites. Whether your ideal activities take place on the land or in the sea, The Palm delivers an experience unlike any other on earth. Why not explore Palm Island by air in a helicopter, seaplane or go around it by boat?
The Atlantis will open its monumental doors and introduces the world to more than 65,000 marine creatures and over 1.2 miles of fresh water adventures in December 2008. The resort brings history and myth together with a world class resort experience. It is situated at the apex of The Palm's crescent, on 120 acres. The Atlantis will be approximately 30 minutes from Dubai International Airport, 5 minutes from The Village Centre at the tip of the trunk of The Palm Jumeirah and only 20 minutes from Dubai city centre. The design of Atlantis is based on the myth of Atlantis and will maintain similar elements of the epic design of the Royal Towers of Atlantis in Paradise Island. The detail for Atlantis will incorporate a flavor of traditional Arabic design themes, specifically in the shape of the arch under the Bridge Suite.
Day 5: There are a variety of tours available, so you may choose among water sports, desert activities and etc. Afternoon is free at your leisure.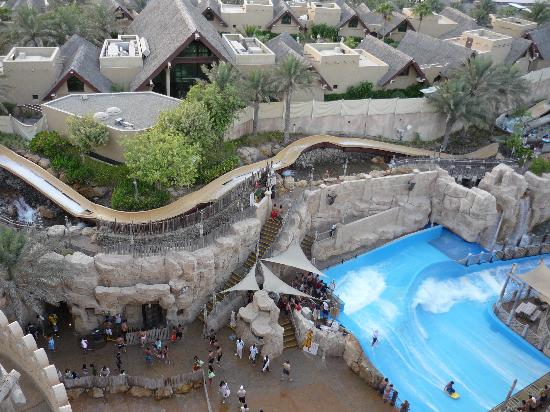 Day 6: Morning is free at leisure. Depart Dubai.